Proven is the hottest new hiring app available to smartphones. The app helps you post your jobs to all the best job sites, track your candidates all in one place, and take your hiring on the go. Now you can manage your job ad, review applicants, and contact candidates -- all from your mobile device.
In the new app, you are able to sort through and filter resumes. This selection process, that typically takes hours, can now be done in far less time, even minutes. Candidates can be marked as "Yes," "No," and "Maybe," and you can then simply click to reach out the applicant from the app itself. You also have the capability to create, re-post and manage your job listings, and share potential hires with others at your company, who can create their own Proven login to view them.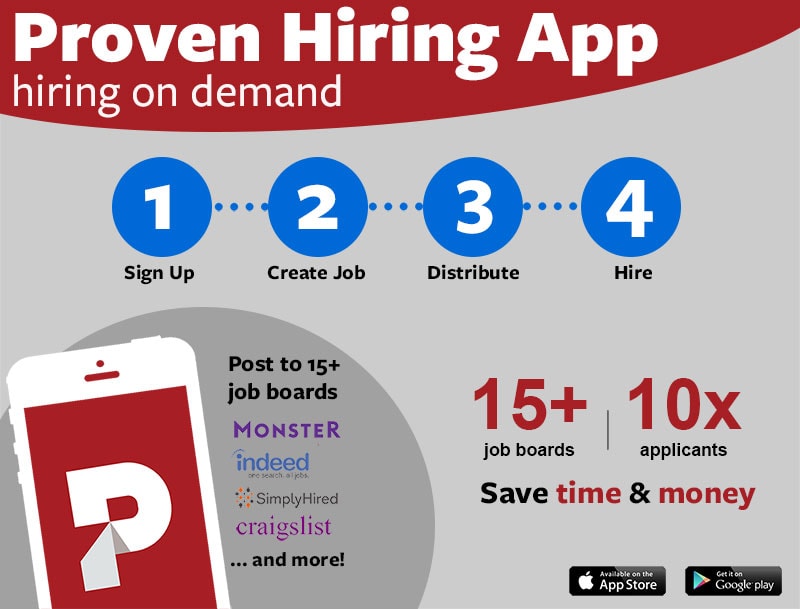 - Post job ads to 100+ job board sites with just a few taps
- Your job will be live on Proven and partner sites for 30 days
- Edit your posting title or job description at any time
- Re-post your job ad the next time you are hiring
- Get notifications when new applicants apply
- Sort and filter applications in minutes instead of hours
- Review full resumes, and cover letters
- Contact candidates with in app messaging, or directly by phone or email
- Collaborate with your hiring team by sharing ratings and notes (unlimited users)
The Proven app for job seekers has grown to 400,000 downloads, and sees 150,000 monthly actives. They offer a 10-day free trial by posting your first job ad to Proven and 100+ job boards.
Proven for Employers is available for download here on iOS or here on Android.
To learn more, call us at 800-700-6507