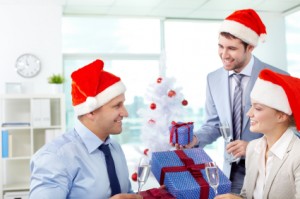 Starting even before Thanksgiving, the calendar marks the arrival of seemingly long, often overlapping, and sometimes conflicting religious and cultural holidays, (Eid al-Adha, Hanukkah, Christmas, Kwanzaa, Epiphany, Ashura, and the Martin Luther King Jr. holiday, as well as the traditional and Chinese New Year's celebrations). For small business owners, this holiday period can be an especially stressful and challenging time that includes a balancing act between respecting the rights of individual employees and continuing to run a successful and profitable business.
Learn about Your Employees
This growing awareness of religious and cultural diversity in the workplace represents a sea change from 35 years ago. Back then, an overwhelming majority of the U.S.-born workforce—more than 95 percent—was Christian. Even a large majority of the foreign-born workers immigrating to the U.S. at that time came from Europe, a traditionally Christian region. Today, however, things are noticeably different. The recent influx of immigrant workers from Latin America, Asia, and Africa means U.S. businesses are now much more likely to have employees of differing religious and cultural backgrounds. And though roughly 80 percent of the U.S. population still identifies itself as Christian, the 20 percent who are not still translates into 60 million people.
Discrimination laws prohibit asking job candidates about their religious or cultural practices. However, an alternative solution is to inquire potential and current employees days and times that they will not be available for work in the upcoming months.
Know the law
Regardless of whether you are a private employer or a public institution, U.S. companies are still bound by anti-discrimination laws. Therefore, private employers do have to accommodate employee requests for time off to celebrate religious holidays unless it poses an "undue hardship" on their business. What qualifies as a religious holiday will vary from one employee to another, but what isn't up for debate, according to the Equal Employment Opportunity Commission, is the legitimacy of a religion or sincerity of an employee's beliefs.
Give Options
One of the best ways to accommodate various religious holidays is to provide employees with more options. Granting floating holidays, allowing holiday swapping between workers, or setting up flexible work hours all represent good tools worthy of adopting into a formal company policy.
Tips for accommodating religious holidays in your small business
Here are a few extra things employers can do to make their workplaces more inclusive during the holidays.
Make sure your holiday party isn't a Christmas party in disguise. Decorations and food should be general, and not specific to any religion.
Consider having a New Year's party instead of a holiday party. This type of party can get everyone on board with the company's mission and vision for the New Year.
Post holiday greetings on your webpage and Intranet for many religious holidays.
Be respectful of these special dates, and plan events and meetings around various holidays.
Display a multi-cultural calendar to help all employees stay aware of important cultural events for the rest of the year.
Be flexible with the needs of different employees about religious or holiday celebrations.
Encourage employees to share their celebrations through stories, decorations, and foods that they can bring to their workplace.