Trying to keep track up updates, to-dos, and new developments with your team? Staying on top of these things is key to productivity in your workforce. Many have turned to Google calendars to keep things in order but even Google falls short in certain areas. Today we are going to review Teamup, the next level of organizing, sharing, and scheduling group calendars. Best of all, the basic plan is completely free!
At a first glance, a Teamup Calendar may look the same as Google Calendar or Outlook. Don't be fooled, though. Teamup is no ordinary calendar – it's been built specifically for groups.
Designed with groups in mind. Teamup isn't a personal calendar for you to manage your own time – it helps groups manage their shared time and resources. All you need to do is set up a calendar, allocate accesses to your team, let them update as needed and stay informed of updates made by the group.
BENEFITS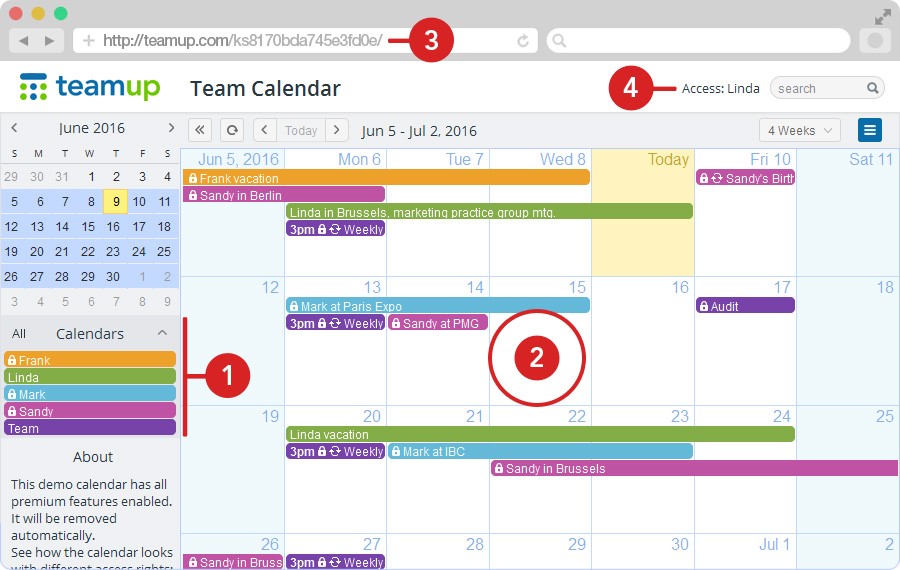 1. Organize with colors: Use color-coded sub-calendars to organize people, places, or events. A sub-calendar can be assigned to a team member, a resource, a project, a process… anything! Learn more.
2. Schedule and view: With Teamup, you can schedule activities, plan recurring events, drag-and-drop as changes occur, toggle views, prevent double-booking, notifications notifications of changes, and integrate into other applications… to name just a few! All updates are instantly available to all users across all devices, any time, anywhere.
3. Share easily: Sharing a Teamup Calendar is as simple as a unique and secure web URL. Each individual URL allows for specific accesses set by the administrator with granular access permissions to each of the sub-calendars. A calendar link can either be shared with one user, or a group of people who have the same access needs. There are 9 levels of permissions ranging from read-only, add-only, modify-from-same-link to those that limit access to certain sub-calendars. Learn moree.
4. Manage access: A user is identified by the name of the link used to access the calendar. Changes are tracked in the edit history or via change notifications. Depending on the role of the user or the needs of the business, each user or user group can be granted customized access. The links are managed by the calendar administrator who can manage the calendar links easily and create as many links as needed for any number of users.
WHAT WE LOVE
Inserting images into your calendar has never been easier. You can pull images from online or from dropbox.
Premium Members can upload directly to Teamup from other applications like Google Drive or Instagram or straight from their computer. This is the feature for you if you want all of your materials kept in one central area. It allows your team to access everything they need from one place.
There are several plans available depending upon the needs of your team. No matter which plan you choose, there's unlimited number of users.