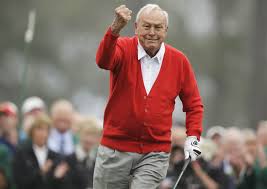 In celebration of the great, Arnold Palmer's life, we are sharing some of his best quotes. While his passion was focused on golf, his character and mindset can be applied in our businesses and professional lives as well.
1. "Success in this game depends less on strength of body than strength of mind and character."
2. "The most rewarding things you do in life are often the ones that look like they cannot be done."
3. "Always make a total effort, even when the odds are against you."
4. "The road to success is always under construction."
5. "What do I mean by concentration? I mean focusing totally on the business at hand and commanding your body to do exactly what you want it to do."
6. "Winning isn't everything, but wanting it is."
7. "The secret of concentration is the secret of self-discovery. You reach inside yourself to discover your personal resources, and what it takes to match them to the challenge."
8. "I can only tell you one thing that I do know for sure, I am a dreamer. There are not many people that will recognize or want to recognize the fact that they are dreamers in their own life ... I continue to get up in the morning, enthusiastically, and go pick up a golf club with a thought that I can somewhere find that secret to making the cut. That's just an example, but it applies to other things in life, too, and that's the way I live and the way I think and the way I feel."
9. "You must play boldly to win."
10. "Swing your swing. Not some idea of a swing. Not a swing you saw on TV. Not that swing you wish you had. No, swing your swing. Capable of greatness. Prized only by you. Perfect in it's imperfection. Swing your swing. I know, I did."