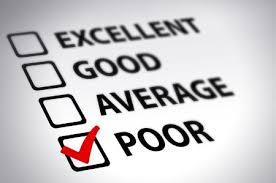 Having to make the decision to terminate an employee for poor performance can be difficult. Most managers want to give the members of their team every chance for success within the company. However, you cannot continue to invest into employees who are poorly performing. Yet, it is not always clear when it is time to make the call and terminate. Before you make the executive decision, consider these 5 questions.
1. Have you made your expectations clear to the employee? Statistics show that almost 50% of disciplinary actions have resulted from misunderstanding between the employee and manager. Be sure to clearly explain your expectations and then together you can come up with a plan of action to meet them.
2. Have you looked into potential roadblocks? Perhaps there are policies or procedures that are inhibiting the employee from being able to meet the expectations of the company. Removing these hurdles can help the employee become more effective.
3. Is the employee fully trained? If so, has he or she had enough time to adapt to the systems and procedures of the company? There is always a learning curve with any new employee. Depending upon how unique your company's technology, procedures, and policies are, the learning curve time will vary.
4. Are they properly motivated? While disciplinary action procedures should be clearly explained to the employee, they also need to feel appreciated when they have done well. Praise for a job well done will often times create a desire for the employee to continue with his or her good performance.
5. Are they capable of doing the work required? Not every job is for every person. Perhaps the job is too strenuous for their personality or physical strength. If this is the case, termination is the best option. But you need to take time to evaluate your hiring process in order to avoid a similar situation in the future.
It's difficult to find a clear line on when to dismiss a poor-performing employee. Answering the five questions above will help you to avoid terminating an employee before you have taken possible steps to help them succeed. The questions will also keep you from continuing to invest in an employee who will not benefit the company.